News and events
CONNECTING BLUE INITIATIVES TO CONTRIBUTE TO MARINE ENVIRONMENT PROTECTION AND COASTAL COMMUNITY DEVELOPMENT
On May 9th, 2023, the Centre for Marinelife Conservation and Community Development (MCD) in coordination with its partners organized "Blue Sea Forum 2023" for connecting and promoting blue initiatives on enhancing marine environment and ecosystems management, marine biodiversity conservation and sustainable livelihood development of coastal communities.
The Blue Sea Forum 2023 attracted the in-person participation of nearly 100 delegates from the Ministry of Natural Resources and Environment, Directorate of Fisheries, Fisheries Sub-directorates of Quang Ninh, Quang Nam, Binh Dinh and Ca Mau Provinces, Environment Protection Sub-directorate of Nam Dinh Province, People's Committees of  Tran Te Xuong Commune (Nam Dinh Province), Nhon Ly Commune (Binh Dinh Province) and Van Hung Commune (Khanh Hoa Province), the Management Boards of various national and international natural heritage and reserve sites – Ha Long Bay, Cham Islands Marine Protected Area, Xuan Thuy National Park, Cat Ba National Park, community businesses such as Giao Xuan Community-based Ecotourism Cooperative, Van Chai-Ha Long Tourism Services Cooperative and Phu Long Tourism Cooperative, international organizations in Vietnam such as IUCN, WWF, Oxfam, Care and ActionAid; national organizations such as Marine Science and Technology Association, Vietnam Fisheries Society, Fisheries Trade Union of Vietnam, Vietnamese non-state organizations such as PanNature, SRD, CECR, ICAFISH and Vietnet-ICT; research institutes, universities, experts in various fields such as integrated coastal zone management, agricultural and rural policy institutions, social sciences, marine science and engineering, irrigation; various community groups and some environmental communication units. The Forum created an opportunity for the related parties to discuss various initiatives, real-life lessons, and future cooperative directions. Additionally, it also witnessed the recognitions from the participants for MCD journey of 20 active years in Vietnam's marine conservation and sustainable development of coastal communities.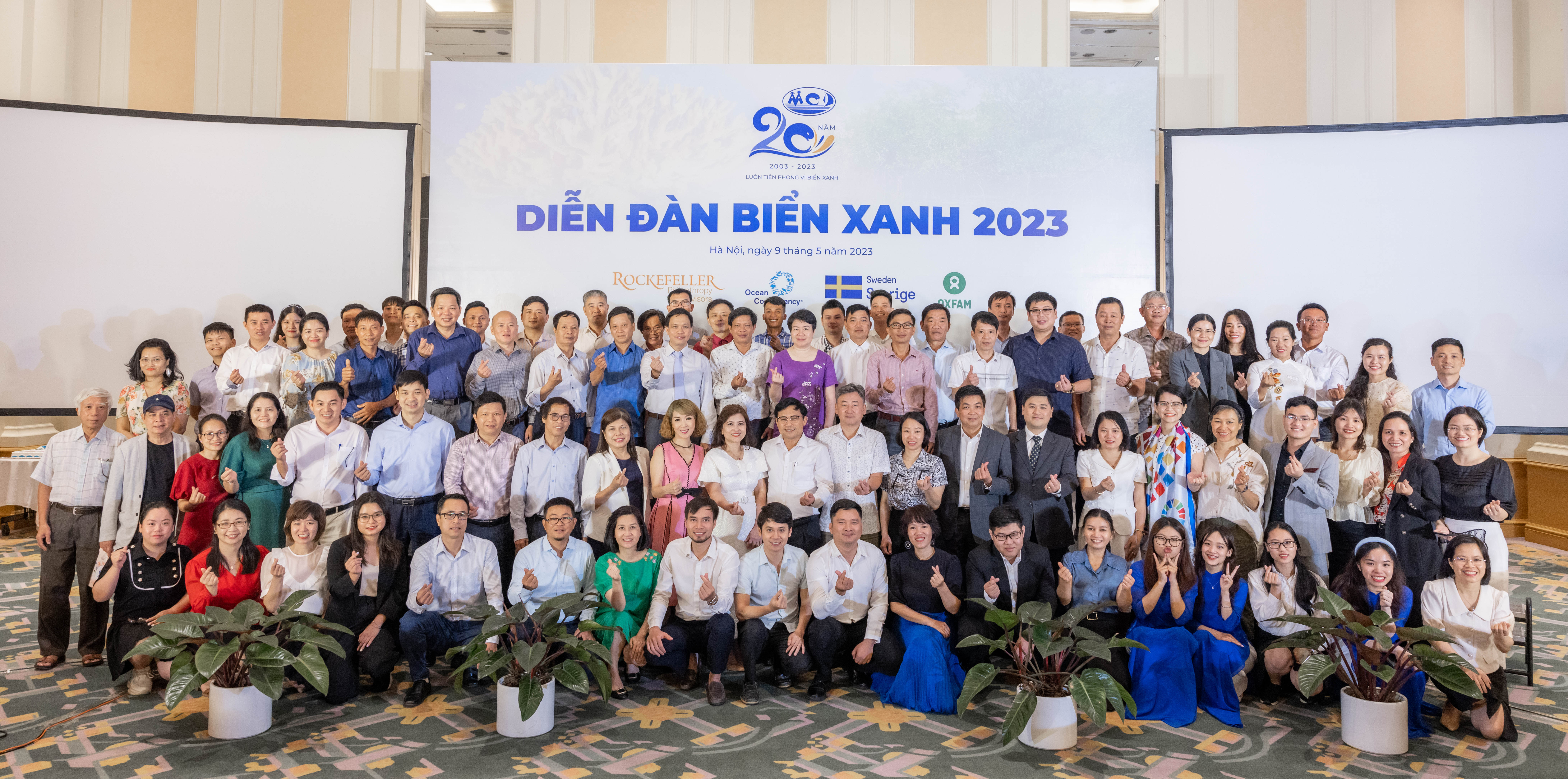 Delegates at The Blue Sea Forum 2023
"Keeping the sea blue is a very big task and requires effort from everyone. We believe that once we do our best, the sea will understand and reward. In the last 20 years, MCD has made ourselves a part of that joint effort. We have worked together during a long journey, with colleagues, partners, and friends, turning the belief into actions. MCD has been a pioneer and a reliable partner in the fields of coastal and marine ecosystem conservation and environment protection, and improvement of the quality of life for coastal communities, especially the most vulnerable", said Mrs. Ho Thi Yen Thu – MCD's Deputy Director.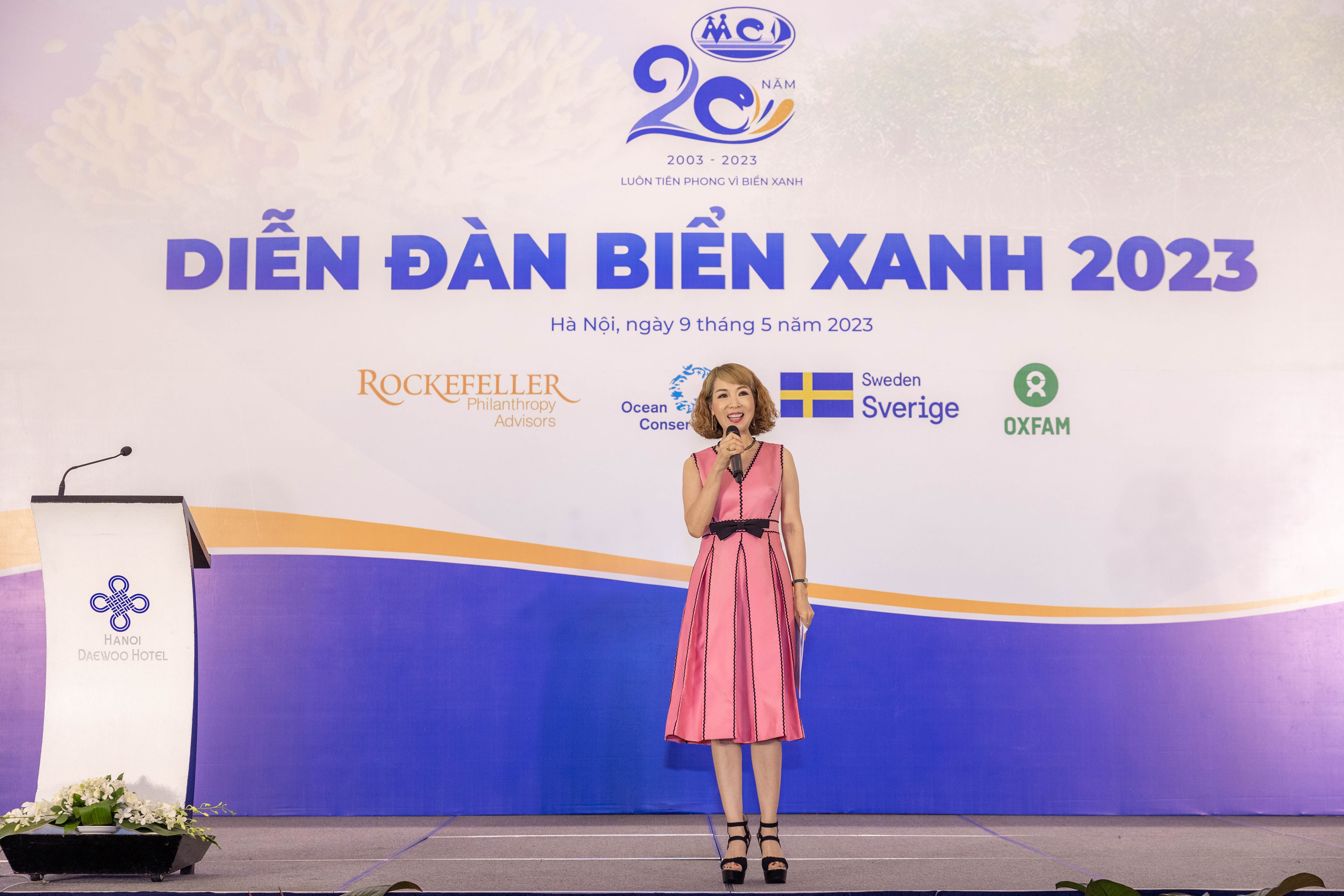 Mrs. Ho Thi Yen Thu – MCD's Deputy Director
During the forum, the participants joined MCD to share about the works done and lessons learnt over the last two decades to build and implement initiatives towards the blue sea. Those initiatives were challenging, yet we made many successes out of them.  The notable examples included: development and replication of the model of local participation in coral reefs and mangroves management;  model for improved collection and separation of solid waste and reduction of ocean plastic pollution; various good practices in community livelihood adaptation to climate change impacts; improvement of the capacity of coastal communities in environmental protection, sustainable aquaculture, and traceability of aquatic products to contribute to combating IUU fishing; and significant contributions to policy improvements.
MCD's Director Board and national level delegates
The Forum also indicated that resources for keeping "blue sea" are very diverse. Through the past experience, it was seen that a significant contribution could be from biosphere reserves, marine protected areas, national parks, local governments at all levels, sectoral departments and agencies, nationally and internationally prestige research institutes and universities, professional networks, and especially, organizations, businesses, and individuals with pioneering spirits in Vietnam.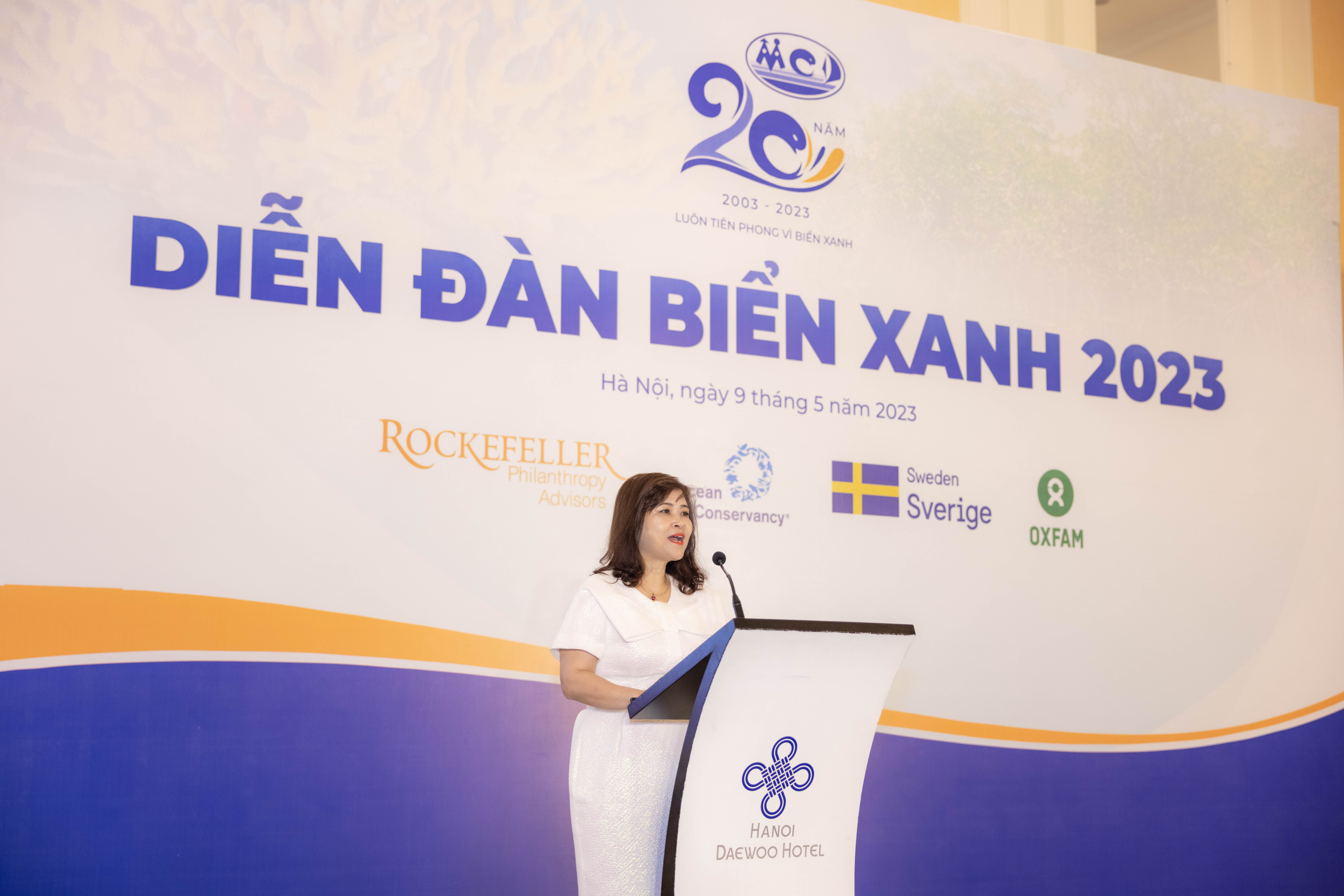 Mrs. Nguyen Thu Hue – MCD's Director
In the context of adapting to changes, it was agreed among the forum participants that in the near future all should keep up their commitment to effective cooperation, adoption of value lessons, identification of relevant priorities, and continuous improvement, in order to make better contribution to the strategic priorities on blue economy and international integration of Vietnam.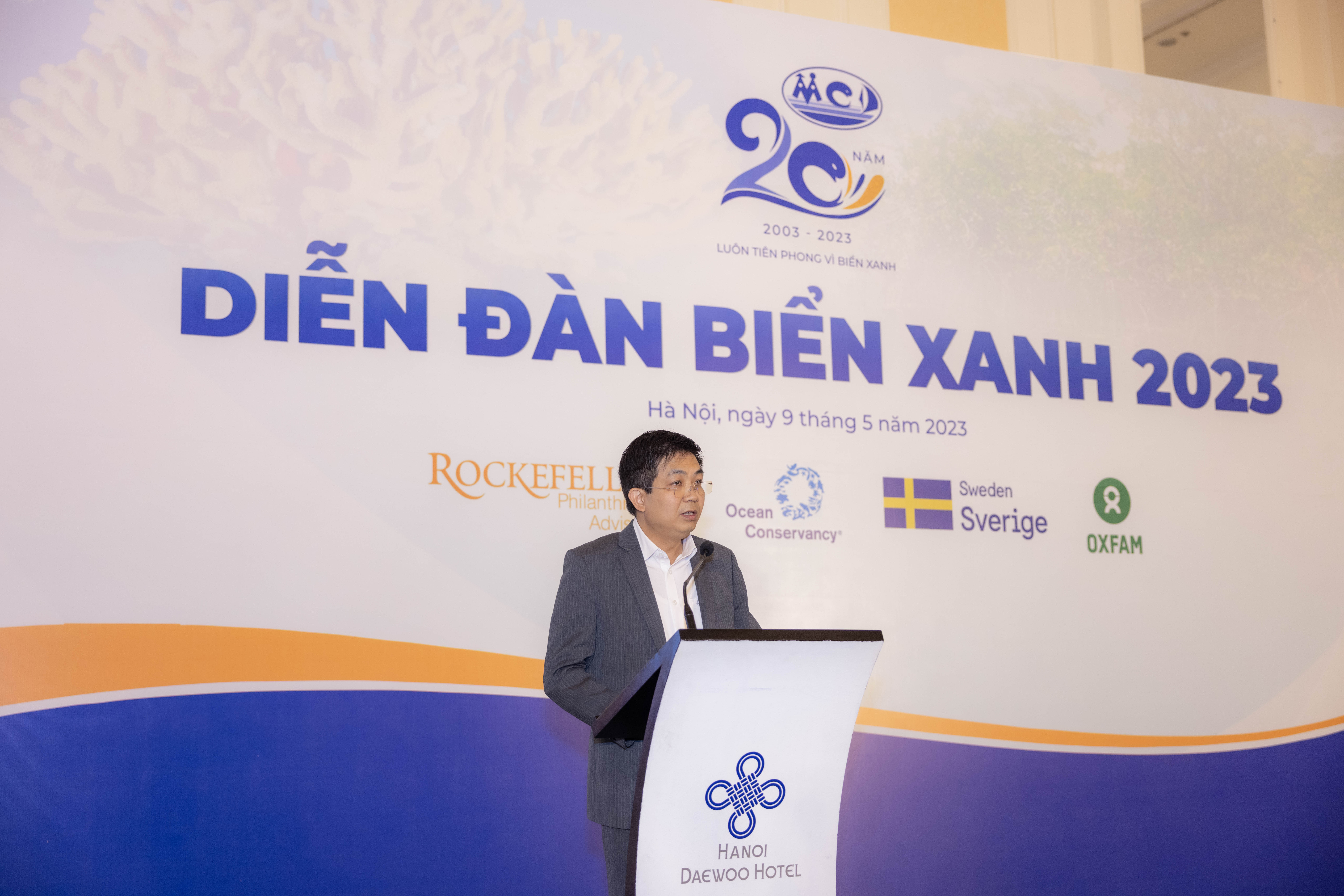 Mr. Hoang Xuan Huy – Deputy Director of International Cooperation Department, Ministry of Natural Resources and Environment
In the event, MCD was honored to receive the Certificate of Merit from the People's Committee of Ca Mau Province and the Letter of Merit from the Department of Natural Resources and Environment of Nam Dinh Province for its contributions to environmental protection and sustainable development.
MCD received the Certificate of Merit from the People's Committee of Ca Mau Province and the Letter of Merit from the Department of Natural Resources and Environment of Nam Dinh Province
The Blue Sea Forum was a highlight in the series of events in the Environment Month responding to the Earth Day April 22nd, International Day for Biodiversity May 22nd, the World Environment Day June 6th, the World Oceans Day June 8th, and the Vietnam Seas and Islands Week June 1st-8th, that MCD organized in coordination with its national and local partners.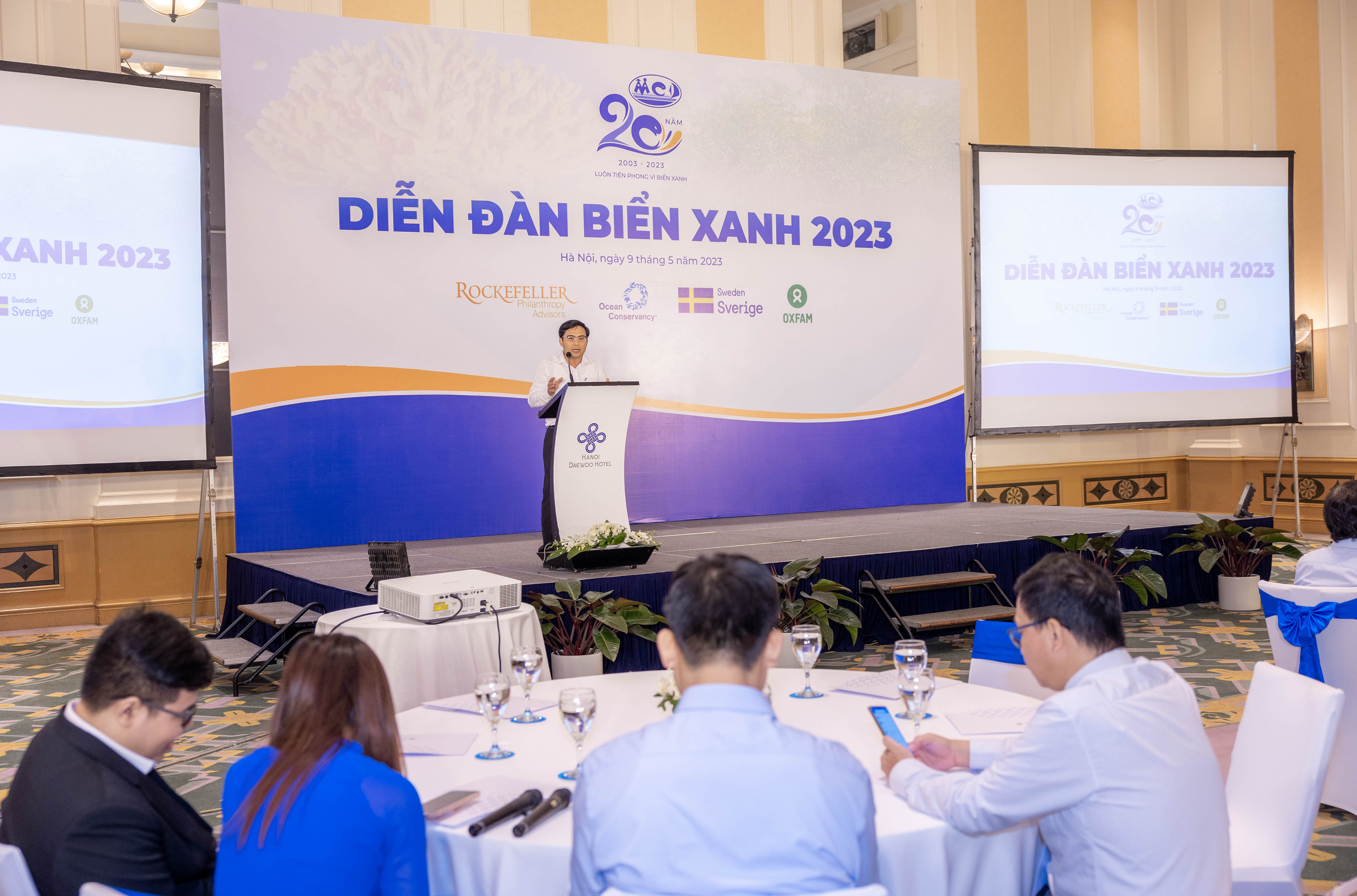 Mr. Le Tran Nguyen Hung – In charge of Aquatic Resources Conservation and Development of Department, Directorate of Fisheries
Read more